Branding is a significant aspect of a business. Every small to medium and large size enterprise has to struggle for sales and revenue in a competitive market. Exceptional marketing, giveaways, and launching unique products can give them a boost for a short while. But branding is a long-term strategy for grabbing a fair share of a market and retaining the customer base.
How can branding help rooting your business deep in Dubai?
Branding is the practice of making the customers remembering a business name for long. A customer may forget the name of his clothing brand after a month or two, but branding is the reason to remind him the name either through a memorable logo, name, design, or the impressive service it delivers. Following are some of the core benefits you avail in branding an enterprise.
Branding helps you penetrate into a competitive market and stand out from the crowd. Be the change to grab a market share.
Grow your business with a brand and set premium pricing for the unmatched quality you deliver. Charging high price without establishing a brand is no success.
Branding aids your marketing and promotional campaigns as the buyers start recognizing the entire brand with a logo, text, slogan, or even color and style of the text you use.
Immaculate quality turns your customers into the brand evangelist. They work as voluntary ambassadors by spreading the word of mouth about your business.
Why is Branding is important for businesses in Dubai?
Dubai is a fast-growing economy that is attracting people equally across the globe. Despite the new entrants, the already established businesses are also facing challenges in maximizing their revenues. The pioneers are the market players, whereas the businesses that neither have a successful track record nor switching to branding, have to spend exclusively on marketing and advertising. They are deprived of enjoying a continuous flow of income through regular customers.
With branding, you can streamline the revenues for not only months but years to come and should not worry about the off-season. To compete with your business rivals and set you free from stretching the sales figure or shrinking business expenses, branding is the only viable solution in Dubai.
How to do Branding for a Business in Dubai?
Building a brand is a painstaking job. Unlike setting up a conventional business that is often built over a night, branding demands patience and persistence determination. It is like infusing a business as a by-default name when it comes to talking about a specific product or service.
Branding a business in Dubai is no different than other parts of the world, but a struggle of understanding its diverse community, cultural differences, and consumer preferences does exist. In light of the basics of turning a business into a recognizable brand, we have discussed below some of the key strategies that will surely help you with your venture.
1. Become a Hallmark of Quality
Starting focusing the quality of products or service you deliver. Average and low-quality products are commonly available, but the quality conscious buyers are always in search of a premium standard. Raise the quality standards of the products you purchase, manufacture, or produce, and highlight them in your promotional campaigns.
The consumers in Dubai now possess information about their rights to high-quality products. According to the National.ae, the Dubai Department of Economic Development has received more than 4400 complaints by the consumers about a service or business, in just first five months of 2012. This shows the eagerness of consumers to avail premium quality products, services, and in-time customer support. A flaw in quality or service may compel a buyer to make complaints against you with the respective department.
2. Promote Your Distinct Self to Justify the Price
Brands are recognized and remembered with the distinct features they have to offer. For example, Apple has an exemplary compatibility of the software with the hardware they produce. Similarly, Microsoft is known for its remarkable contribution to software, but is primarily known for Windows. Take another example of Google which became a preferred search engine for its relevant and fastest search results even it launched years later to Yahoo.
In the same manner, every clothing brand has it fan following because of the unique selling point(USP) they highlight. Setting a higher price is only justifiable when a promotional campaign is based on the unique feature of your product or service. Make the users want your products despite the expensive price rather than making them find a low priced product. Dubai is housing hundreds of brands in various industries across the borders. But, recognizable features won't let you down in making your business impact.
3. Be Present and Consistent on Social Media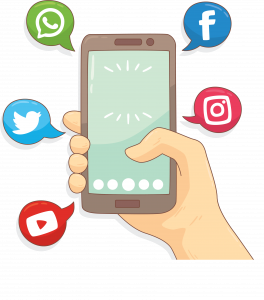 Branding demands various awareness campaigns through various mediums of communication. Dubai is equally excelling in social media as the rest of the world does. Select the social media platforms suitable for your specific business needs, craft messages that are in-line with your brand strategy, and publish them when most of the users are active and likely to engage.
You need to attain consistency in presenting your business on various social media networks and regularly convey engaging messages. Your target users may be using any of their favorite social media platforms. So, don't miss out on a platform that best defines the interest of your target audience. The DubaiEye reports that WhatsApp, Facebook, and YouTube are among the commonly used social media applications in the UAE.
4. Share a Struggle behind the Brand
Adding a touch of emotions helps create strong bonds with brand followers. Every business faces struggles and hardships in achieving the level of perfection to make the supreme quality of products or services available to the locals. Writing all about your fights against the odds will give your customers the reasons to remember and talk about your brand.
Setting up a business it itself a challenge in Dubai, where you have to abide by the laws that may be quite different than where you came from. Living in a completely new city or state, and interacting with multi-cultural people is not a child's play. Compose an 'About us' page or label the same with 'Our Story' or 'Our Struggle,' and let the locals relate to the actual struggle.
5. Own a Positive Image
A positive image or thoughts shines high where people are fed up with the increasing negativity around them. The layman either regrets the people promoting negativity on a social media platform or around him in the office or neighborhood. Reaching them with a positive message proves to be a ray of hope that optimists still exists.
Promoting a positive image does not necessarily want you to carry campaigns individually. It simply means the elimination any negative thought from your slogan, logo, web design, or sales copies. People want to be motivation rather than disappointed with a product description.
For example, your brand follower may like one of your competitors as well. If you repeatedly scorn their product line, the negative feeling will make the user stop following your brand. Adopt an optimistic approach regardless of whatever the rivals and unhappy customers utter either on social media or outside your stores. A peaceful message will prove your stance to be true and honest.
Final thoughts
Branding may not be useful for businesses with a short-term marketing strategy. In Dubai, a lot of people start a business with a plan that is short-term but likely to extend to a larger scale. A perfect marketing strategy that speculates a positive image and higher success ratio can lead to branding a business.
The endless opportunities in building a brand are enough to make the merchants and entrepreneurs implement various strategies in turning a business into a brand. In this post, we have defined some of the effective techniques that may help you start branding and go advance as you excel in getting recognition.
Managing and creating your own branding strategy is a complicated task, It requires dedicated time from your end. Another thing that you can do is to hire a reliable branding agency Dubai.
Being in the field of digital marketing for more than 10 years, FME Extensions Dubai is one of the leading branding firms in the Middle East. We take pride in our exceptional professionalism and customer support. Contact us now and let us make your business a brand that people will remember and trust.