comScore recently released their lasted Global Mobile Report and it contains some very interesting insights into the Mobile usage of the internet world. In this  Report, comScore used mobile and multi-platform data to highlight demographics, content categories and brands that are shaping the digital landscape. There are a lot of very key aspects highlighted in this report and online marketing managers can use this info to shape their future strategy.
comScore analyzed major 12 online markets including the USA, China, India, and the UK to compile this report. Here we are going to look at some stats that we find very interesting:
Time Spent Online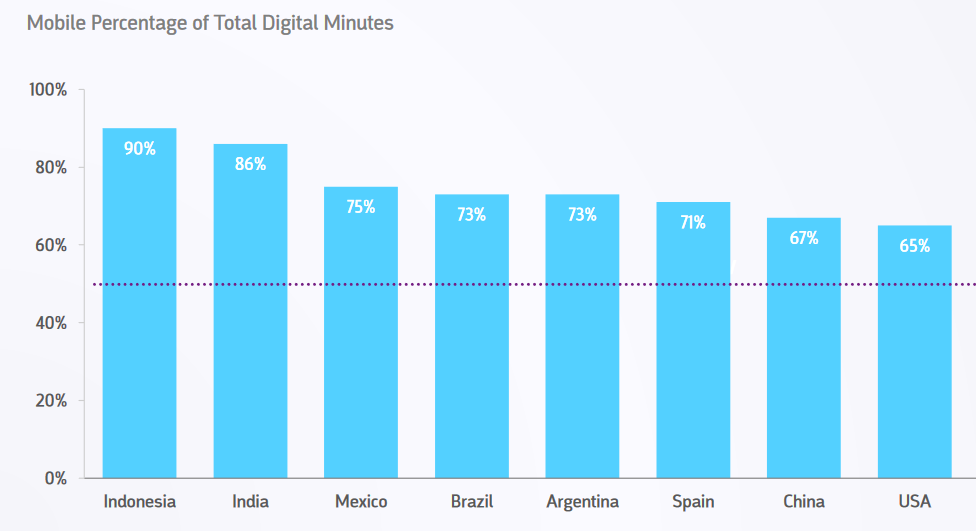 The most important find is that now people spending over half of their digital time on their mobile devices. In India, this figure is about 86%. This number will surely go up as more and more people are getting access to the internet around the globe.
Pro Tip:
Make sure your website is mobile friendly and responsive. The time is not far when all of the traffic will come from mobile devices. All the big brands have already started to implement this strategy, they have very responsive and beautiful mobile sites. This article from HuffingtonPost  explains pretty nicely all the things that you should consider while designing your mobile site.
Apps Contribute Most of Online Time

More than 80% of the time people spent online is spent on the apps rather than the web. There has been a revolution in app development. Developers have made apps so simple to use and navigate that people prefer them over the website.
Pro Tip:This is a good time for you t invest in app development for your online website. It will not only increase user engagement but at the same time, it will help you build your brand. Being an app icon, you will always be in view of your user.
Mobile Only Audience is Growing
There is also an increase in mobile-only audience. In most of the developing countries, people cant afford laptops and desktop but usually have smartphones. This trend is growing as more than 70% users from India are mobile only.
Pro Tip:If your target audience is from these countries make sure you have a mobile-friendly website, which loads better on some old smartphones as well.
Females Are More Likely to be Mobile Only Users
comScore also found out that the percentage of mobile-only users are more in females other than males. Expect India all other countries showed that the mobile-only users are mostly female.
Pro Tip:Your online marketing plan should take this finding into account. Make sure your marketing plan has appeal for both male and female users. This great piece by Forbes highlights very practical approaches to gain more female audience.
Social Media Services are Topping
This should not come as a surprise, most of the online time spent is usually spent on social networking site i.e Facebook, Twitter etc. Almost 78% of the time online time is spent on these sites.
Pro Tip:Setup social media pages on all popular websites for your business. Design beautiful cover photos and do regular posting. You should be seen as active on social media. Try to share insights into your company culture and work environment. This will help you build brand trust. Here is a very detailed guide that will help you get started.
Mobile Purchasing is Increasing
As the mobile usage is growing very rapidly, purchasing from a mobile device is also increasing. More than 50% of e-payments is now done through mobiles. As the most of the financial institutions are now offering their service through apps to their mobile customers, this has made extremely easy for buyers to perform a transaction from their mobile.
Pro Tip:Your online store must be optimized for mobile transactions. Make sure you have included enough mobile payment gateways to cater all of your visitors. Your checkout process should be very simple and well organized.
Amazon is the Favorite
Amazon holds most of the market share for online retails. As one of the oldest online store Amazon has proved itself to be a reliable alternative to physical shopping.
Pro Tip:If you are in product based business, it might be a good idea to sell your products from Amazon as well. This will not only give you reach to a wider audience but at the same time, it will help you establish your own brand.
Facebook Dominates the Online World
Despite being started in 2004 Facebook has completely changed the online networking. Now it holds the place of the trendsetter in the online world. Facebook usage for the mobile world dominated almost all the countries.
Pro Tip:Facebook allows having a separate page for your business and brand. Set that up and input all the information regarding your business. Keep your audience fed up with regular posting. They key here is the paid promotion that facebook offers. You can choose your target audience, their age group, interests etc. If done correctly you can gain quite a number of visitors in very short time.